clients

Download PDF
Client Name: Toyota
Open source sales force automation solution delivered within weeks
Open Source Sales Force Automation implemented into Toyota
This case demonstrates 1Tech's expertise in integrating open source solutions within a complex technology landscape. 1Tech integrated an open source Sales Force Automation (SFA) capability customising and extending the core opentaps product to align with Toyota sales business processes. 1Tech selected opentaps as the platform that would deliver SFA with the potential to integrate key internal systems including the corporate website, CRM, pricing system, finance, insurance and vehicle ordering systems.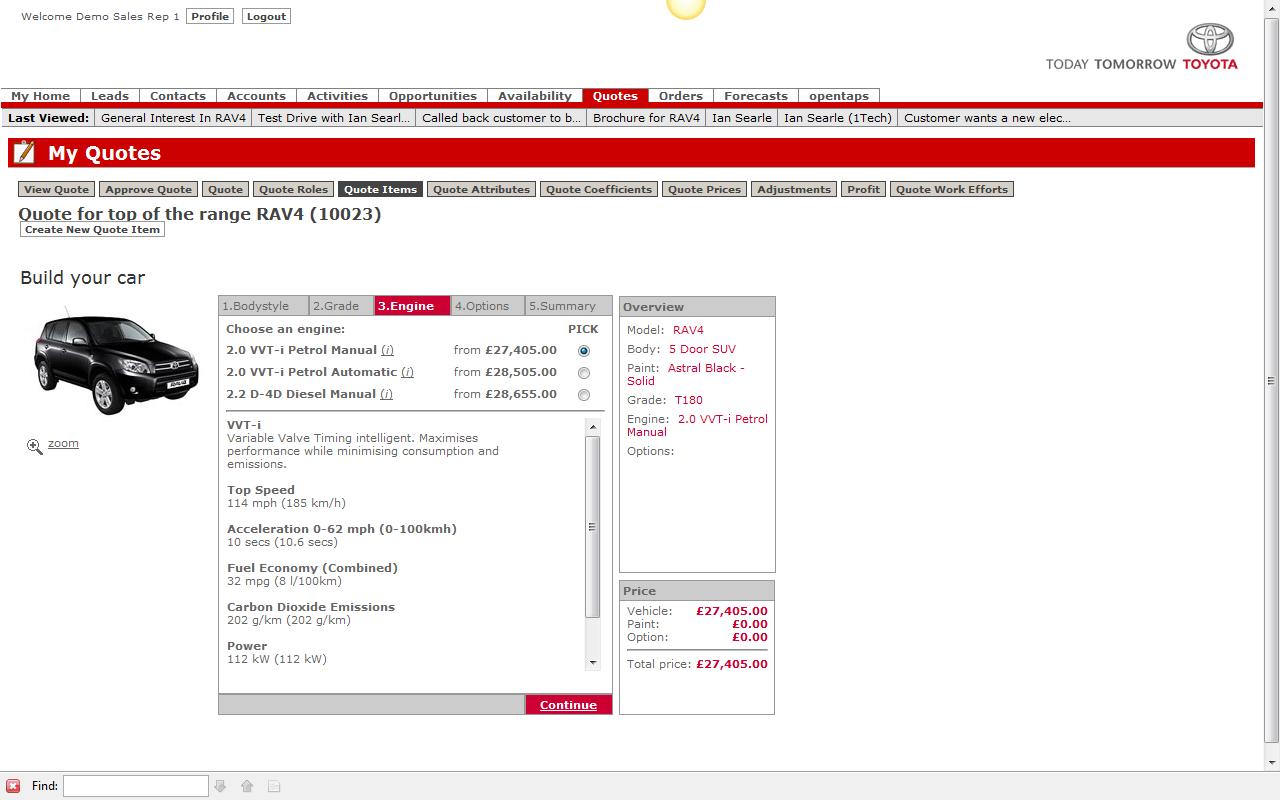 The Company

Toyota (GB) PLC is part of Toyota Motor Corporation the world's seventh largest company and the second largest global car manufacturer. Importer and distributor for Toyota and Lexus vehicles in the UK, the company is responsible for sales, marketing, after sales and customer relations across its entire UK network of 200 Toyota Centres. 1Tech has been working with Toyota GB plc for a number of years on Information Systems solutions that span the company's business applications portfolio.


The Problem
The legacy sales system needed to be urgently replaced as crucial sales opportunities were being missed due to lack of integral customer knowledge and intelligence sharing across the system portfolio. Toyota approached 1Tech to explore the opportunity of open source software adoption as a method of delivering their sales force automation solution. Toyota were faced with alternative expensive commercial solution paths and there were already other initiatives underway that allowed 1Tech to illustrate the potential of open source software across the organisation.
The Sales Work Bench (SWB) system would be used by Toyota dealers to track sales activity, configure vehicles, produce quotations and place orders. The same system will be used by central management to track sales activity across the dealer network.
The challenge was to implement a proof of solution that would demonstrate the ability of open source software to deliver the required functionality in a short space of time.


The Solution
Perform a detailed analysis of open source solutions to determine an appropriate choice of SFA system
Develop a proof of solution to ensure business and technical acceptance of the solution
Opentaps was selected as it is based on the company's strategic JEE platform and delivered a lot of the core SFA functionality
The opentaps SFA was deployed in Toyota's strategic technical architecture:

DB2 (RDBMS)
IBM WebSphere Application Server (Application Server)
IBM WebSphere ESB 6.1 (SOA Enterprise Service Bus)
IBM HTTP Server(Web Server)
Linux OS

Analysis of business use cases to elicit user requirements
Perform detailed requirements analysis to ascertain the level of required customisations and implementation path. This was achieved across several workshops involving many stakeholders
Work with various stakeholders to determine full project delivery plan including detailed estimations around resources, timelines and milestones
Provide expert leadership to architect, design, develop and implement the solution
Full user experience design and implementation
Full integration design with key internal systems such as CRM, finance, insurance, marketing, vehicle valuation, pricing and ordering systems. All integration was achieved using the opentaps SOA model integrated with IBM WebSphere ESB.


The Result
Delivery of SFA solution within 4 weeks using 1Tech's assured open source integration methodology (1TechOSIM) based on RUP
Approximately 30 user interface screens customised to deliver the required functionality
A fixed price cost for delivering the solution within budget
Board level acceptance across Toyota that open source software provided a viable solution, demonstrating value for money and rapid delivery
The SFA delivered the following core functionality: central leads management, creating a lead, activity and opportunity management, booking a walk in test drive, test drive pre-check and completion, quotations, sales management, vehicle order creation, vehicle delivery and management information
No licensing or core software fees. The SFA was based on proven open source software using the well established opentaps framework
As an added bonus of open source software Toyota were also able to use the additional built in SFA functionality
Expert led implementation ensuring quality within the delivered solution
The realisation amongst Toyota that opentaps could be used in other interesting ways such as delivering CRM and ERP capabilities to transform existing commercial package based legacy systems

Conclusion
1Tech's assured rapid delivery of am open source SFA solution customised to meet the specific automotive requirements would help define the wider software adoption strategy in Toyota. 1Tech were able to deliver an end to end working solution within less than a month.
This result impressed Toyota who decided that open source software would form the foundation of there future systems development strategy. Architected around opentaps, 1Tech are able to leverage many previous experiences of implementing Open Source ERP/CRM/SFA solutions.
1Tech are a certified opentaps services provider ensuring high quality and cost effective delivery of Open Source ERP, CRM and SFA solutions. Opentaps certified services providers are professional services organisations which work with Open Source Strategies Inc (opentaps creator) in a collaborative partnership to deliver high-quality, cost-effective open source enterprise software to their clients.
For further information on our open source ERP solutions please visit: http://www.1tech.eu/solutions/suites/erp