solutions

1TechOSIM
Introduction
OSIM is 1Tech's own, assured Open Source Integration Methodology which has evolved as a result of many years experience of implementing enterprise-class open source solutions. It is aimed at realising robust applications which are compatible with a user organisation's structure and strategies and can be implemented in an efficient, standards-based manner.
OSIM applies four perspectives to each implementation project: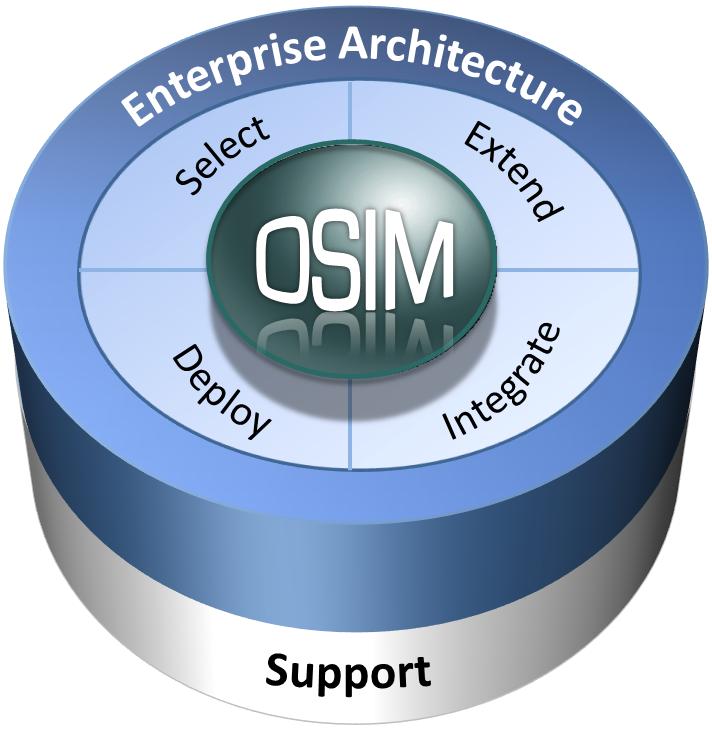 Selection
Choose the correct open source application(s).
Extension
Adapt and enhance the application to meet the organisation's goals.
Integration
Seamlessly introduce the new system within the existing business and technical environment.
Deployment
Ensure the solution is successfully deployed to the user community and that appropriate support policies are in place.
Standards
OSIM is based on current Standards and Best Practice including:
The Open Group Architecture Framework (TOGAF)
IBM Rational Unified Process (RUP)
Open Unified Process (OpenUP)
Unified Modelling Language (UML)
Evolutionary Process for Integrating COTS-based Systems (EPIC)
IT Infrastructure Library (ITIL)
IBM Tivoli Unified Process (ITUP)
Software Process Engineering Metamodel (SPEM)
Implementation
OSIM, at its core, is based on the IBM Rational Unified process (RUP), which has been adapted specifically for open source implementations, and the process is further customised for each engagement. RUP is the most robust methodology in existence for software implementation projects and 1Tech has considerable expertise in its use.
The approach is risk-driven, iterative and architecture centric, ensuring that all significant risk is driven out as early as possible during the project so that unpleasant surprises do not emerge when it is too late to correct them within project timescales.
Adapting the Process
1Tech engagements come in many flavours. In some cases, we simply construct the required solution and then integrate it within the existing environment; in others, the solution is part of a wider project or programme in which we participate, not only in the development effort but also in the practices and processes that surround it.
To ensure that we can operate as an effective, collaborating partner, we apply various techniques to align ourselves with client practices whilst preserving the resilience of our own methods. The process is therefore adapted, within specific guidelines, to integrate with each environment; these guidelines include, for example, integration with Prince2, PMBOK, Agile and XP methods. Additional guidelines cover Enterprise Architecture (TOGAF), Programme and Portfolio Management, Support policies (ITIL) and various open source solutions.
Links