clients

Download PDF
Client Name: Ministry of Justice
The Supreme Court case management system delivered using open source software
The UK's highest court decides to use Alfresco above commercial alternatives to deliver case management and document management – Ministry of Justice
This case demonstrates 1Tech's expertise in customising and delivering open source Enterprise Content Management solutions.
Alfresco is a leading open source alternative for enterprise content management. It couples the innovation of open source with the stability of a true enterprise-class platform. Alfresco offers true open source enterprise content management (ECM) - document management, collaboration, records management, knowledge management, web content management, and imaging.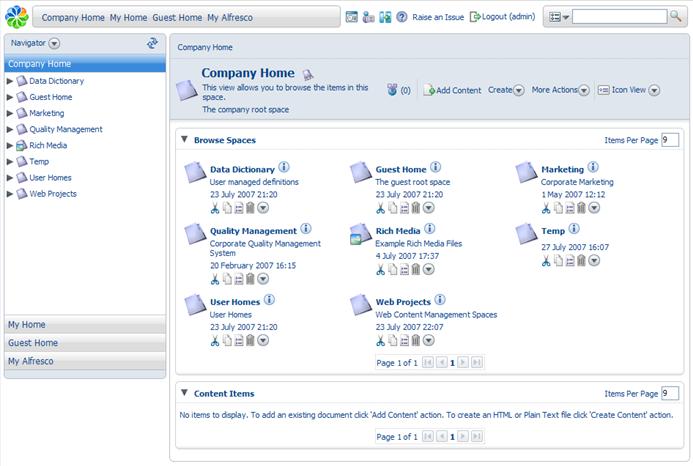 The Company

Our client; Ministry of Justice is one of the largest government departments in the UK. Every year around 9 million people use its services in 900 locations across the United Kingdom, including 650 courts and tribunals and 139 prisons in England and Wales. 1Tech already providing consulting services to the Ministry of Justice were approached to deliver an enterprise case management system built on Alfresco to the Supreme Court; an independent institution, presided over by independently appointed law lords.
The Supreme Court commenced operations in October 2009 and will be the final court of appeal for UK judicial proceedings. It will be an organisation independent from all of the territorial court services (England & Wales, Scotland and Northern Ireland). It will sit at the pinnacle of the judicial system within the United Kingdom.


The Problem
Ministry of Justice asked 1Tech to provide support for analysing various options for an Enterprise case management system. With a fixed end to end delivery of budget, the Supreme Court soon realised that a credible commercial solution was not an option. Upon selection of an open source direction based on Alfresco, 1Tech were required to architect, design and deliver a solution based on Open Source Software addressing the following key requirements:
The UK Supreme Court required a system that will enhance the current ways of working and will augment the capabilities of the Court to manage cases, thereby enhancing its national and international reputation. The essence is to deliver a modern strategic case management system (CMS) for the court that will enhance its administrative processes and assist the judiciary, by providing:
A case progression system (CPS) to record and manage the progression of cases including managing the progression (not calculation) of taxation (assessment of bill of costs) cases;
A diary management system (DMS) to maximise effective use of judicial and courtroom resources;
A Document Repository System (DRS) that stores the full appeal bundle, when filed by the parties in electronic format and stores electronic communications relating to the case.
To provide case management services to support the business processes of initiating, preparing, scheduling, deciding and concluding a case
Integrate with existing user directories
Provide integration with existing case management systems. Some systems are over 25 years old
Ensure the system is secure as to promote public confidence
Provide a simple user interface to allow any judge to be able to manage a case file
Act as a centre of excellence for future court developments


The Solution
Highly sensitive enterprise scale solution using Alfresco open source enterprise content management software
Perform a detailed options analysis of open source solutions to determine the most appropriate components. Solution included an assembly of the following key open source components:

Alfresco (Enterprise Content Management System)
PostgreSQL (Database)
Integration (Web Services)
JBoss (Application Server)
Eclipse Software (Development Environment)

Provide expert consultancy to architect, design, manage and implement the solution
Integration with the Royal Court of Justice and Crown Court case management systems. Integration with other internal corporate systems including HR and Finance
The Alfresco ECM system handles access permissions, collaboration, version control, and other key functions for managing critical documents in a large organisation. Content is extremely sensitive, including all the case notes, judgements, and other legal documents shared among judges and their staff. Authorised users are allowed access to the system, but only for material they have permission to view or use
In this enterprise-wide ECM solution, high availability was essential. As lead contributor, 1Tech designed and set up the load balancing and failover architecture, based on the Supreme Court high availability requirements.
A bespoke diary management system built using Alfresco libraries to provide court space bookings


The Result
Alfresco's ECM platform has been extended to meet the Court's requirements for high availability and enterprise-wide security, customising standard capabilities and adding new functionality where needed. Experience helped: 1Tech have performed many implementations of Alfresco
1Tech were able to deliver a solution to meet all core requirements within 3 months using 1Tech's assured open source integration methodology (1TechOSIM) based on RUP
The open source model allows Alfresco to use best-ofbreed open source technologies and contributions from the open source community to get higher-quality software produced more quickly at much lower cost
No licensing or core software fees. The assembly was based on proven open source software using well established components
If Supreme Court had used a commercial vendor stack for the ECM, it is estimated that the project would have faced licensing fees in excess of £300K ($500K)
Expert led implementation ensuring quality within the delivered solution. 1Tech are able to integrate commercial integration software with open source software
The new platform provides the Ministry of Justice with a template

Conclusion
Open source software is moving up in the world from small start-ups to major, established institutions, and from deep within the software infrastructure to the key applications that drive a business. Showing how much open source software has matured, the UK Supreme Court is now using the Alfresco content management system to control and protect its repository of legal case documents.
The solution is one a highly visible implementation of an open source enterprise content management (ECM) solution, with 1Tech handling the customisation, design, delivery, deployment, and support. The Alfresco ECM provides secure document management for Judges and Users. 1Tech are able to leverage experience of many previous Alfresco implementations. The Supreme Court stated that they would not have been able to deliver a working system in the short time frame available and within budget without 1Tech's involvement. 1Tech's unequivocal industrial strength ECM and Alfresco design and implementation knowledge ensured that the final solution was delivered on time and within the client's budget.
For further information on our Enterprise Content Management solutions please visit: www.1tech.eu/solutions/suites/ecm