clients

Download PDF
Client Name: Ealing Council
Case Study: Large local government web site powered by Open Source Web Content Management Solution

Open Source Content Management Solution delivered for a fraction of the cost of a commercial solution – Ealing Council

Many businesses today are experiencing continually increasing information publishing costs. Ealing Council wanted to exploit the benefits of open source software and 1Tech helped deliver a suite of components at a zero licensing cost.

Content Management allows website owners to take control of their content, making additions and updates without the need for technical skills, or further involvement from their digital agency. They provide a cost effective solution for organisations looking to frequently publish information to their online channels.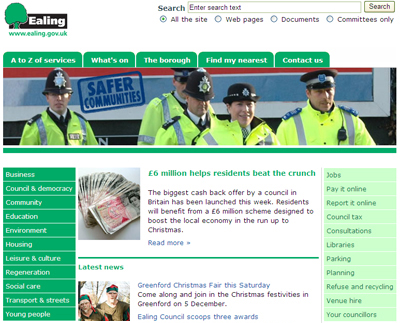 The Company


Our client; Ealing Council a UK local government organisation has recently gone through a radical overhaul of their online business services. They approached 1Tech with a brief to deliver a dynamic content management solution that could be integrated with their key systems within a fixed budget.


The Problem
Ealing Council asked 1Tech to own and deliver the complete online presence addressing the following key requirements:
A full enterprise web content management system allowing multiple parties both internal and external to edit, manage and publish content. The content range is around 10,000 pages
Integrate existing internal council business systems with the web content management to provide external internet facing e-Services functions such as housing, payments, council tax, parking, refuse and recycling capabilities
Integrate the site with an existing CRM/ERP system
Integrate the site within the Directgov Portal
Implement security enforcing functions as to comply with HMG Security standards
Provide mentoring and training from a content editing, management, technical and maintenance view


The Solution
Solution included an assembly of the following key open source components:

OpenCMS (Content Management System)
Apache Tomcat (Application Server)
Apache HTTP (Web Server)
Mule ESB (SOA Enterprise Service Bus)

Perform detailed requirements analysis to ascertain the level of required customisations and implementation path
Provide expert consultancy to architect, design and implement the solution
Full integration with key business services to deliver real time operational services through online channels. This included the ability to pay for council tax, fines, refuse and recycling. It also included integrating with internal ERP appointment booking services.
Full user experience design and implementation
Project and delivery management
Supply of training to all content editors and users of the system
Full development and enhancements support post implementation


The Result
Delivery of complete solution within 6 months using 1Tech's assured open source integration methodology (1TechOSIM) based on RUP
Savings of £350K in license fees compared to cheapest commercial solution provider
No licensing or core software fees. The assembly was based on proven open source software using well established components
Ability to freely modify the software providing huge advantage to Ealing Council
Efficiency and productivity cost savings
Ability to reuse components across other government departments to support the UK government IT sharing policy
Extensible and scalable online platform upon which to develop further online services
Transformation from static to modern dynamic enterprise content management capability
Solution allows Ealing Council's partners the ability to manage and edit content within dedicated work streams and integrate complexbusiness processes across multiple organisations

Conclusion
1Tech delivered a complex multi partner next generation internet solution assembled using only open source software. Architected around OpenCMS, 1Tech are able to leverage almost 40 previous experiences of implementing OpenCMS solutions. 1Tech have been premium partners with OpenCMS for more than 8 years.
Ealing Council required a guaranteed result and leveraged the 1Tech assured open source delivery capability which is based on experience of over 100 successful open source software projects. The end result was delivered at a fraction of the cost of commercial counterpart alternatives which delighted the client. Using 1Tech's unequivocal OpenCMS design and implementation knowledge ensured that the final solution was delivered on time and within the client's budget.
For further information on our web content management solutions please visit http://www.1tech.eu/solutions/suites/webcontentmanagement