clients

Download PDF
Client Name: National Rail
National Rail uses open source software to power their internet Web Site
The UK's largest internet rail information service experiences cost savings and increased efficiency with a high performing custom built web site using the OpenCMS platform – National Rail
This case demonstrates 1Tech's expertise in designing and delivering secure and highly scalable and performing websites backed by content management solutions, and 1Tech's ability to develop complex technical solutions for the Java platform.
Content management systems allow website editors to take control of their content, making additions and updates without the need for technical skills, or further involvement from their digital agency. They provide a cost effective solution for organisations looking to frequently publish information to their online channels.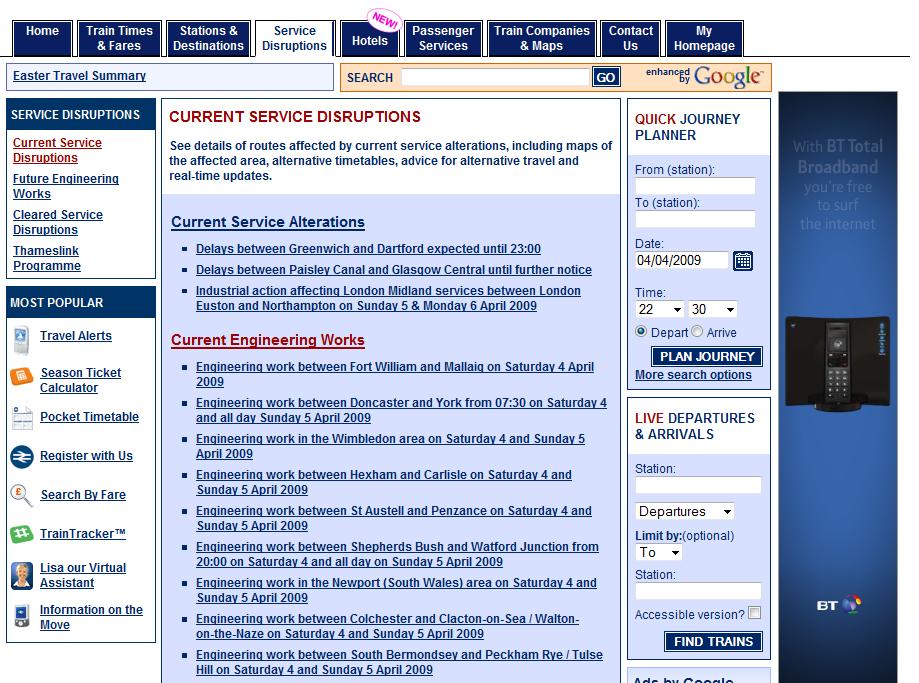 The Company

Our client; National Rail the largest rail enquiries service in the UK provide information services such as train times and fares, stations and destinations, service disruptions, hotels, passenger services and journey planning services. The web site supports over 1 million queries a day.
National Rail approached 1Tech with a requirement to deliver demanding and high performing information services to support journey planning, service disruptions, alerts and news dissemination. National Rail wanted to avoid vendor lock in and use of proprietary software.


The Problem
National Rail asked 1Tech to architect, design and deliver a solution based on open source software addressing the following key requirements:
A full enterprise web content management system allowing multiple internal business units to be able to edit, manage and publish service disruptions. The dynamic content range is around 100,000 pages
Interactive high performing services for intelligent journey planning service, train times and fares calculation service, live departures and arrivals and stations and destinations
Ensure that the internet service is available to a 99.99% service level agreement
Previous National Rail online services were built using a proprietary database and Java EE technologies – both provided by an incumbent supplier. The client wanted to move away from the proprietary stack, and save in ongoing license costs by leveraging the best open source platforms instead
The timeline to deliver was very tight, as National Rail needed to make all existing services available by a particular deadline to avoid extending the incumbent proprietary systems contract and also to meet demanding new service levels


The Solution
Complete system delivery allowing all National Rail content managers and editors to publish service disruptions, train times and fares calculation service, live departures and arrivals and stations and destinations online
Perform a detailed options analysis of open source solutions to determine the most appropriate components. Solution included an assembly of the following key open source components:

OpenCMS (Content Management System)
MySQL (Database)
CA Single Sign On
Apache Tomcat (Application Server)
Apache HTTP (Web Server)
Mule ESB (SOA Enterprise Service Bus)
Eclipse Software (Development Environment)

OpenCMS provides content management and dissemination directly to the internet site. There are various CMS staging servers configured to support content workflow. OpenCMS, MySQL, CAS and Mule ESB components replace existing proprietary stack. This additional software provides full integration between existing mainstream and legacy systems including the new components
Full integration with key business services to deliver real time operational services through online channels. This included ERP systems pricing, fares, stations and destinations application services.
Systems performance design and optimisation to support up to 50,000 concurrent query requests


The Result
1Tech were able to deliver a sophisticated, performant and user friendly solution within 6 months using 1Tech's assured open source integration methodology (1TechOSIM) based on RUP
If National Rail had used the incumbent proprietary stack for these upgrades, it is estimated that the project would have faced additional licensing fees in excess of £400K ($600K)
No licensing or core software fees. The assembly was based on proven open source software using well established components
Secure and resilient solution with a downtime of only 60 minutes per year
Expert led implementation ensuring quality within the delivered solution
Rapid delivery of interactive functionality as 1Tech reused existing developed components. This included Registrations, Alerts and Newsletters
Extensible and scalable online platform upon which to develop further online services
Next Generation Internet platform supporting an increased volume of traffic (up to 50%)
The new platform allows National Rail to easily deliver other future services such as bookings and holidays modules relatively inexpensively

Conclusion
Open source software can entirely meet business needs and this case study demonstrates how many requirements could be addressed through the implementation of a single ECM solution. Alfresco was able to eliminate information silos, organise content through document and content management, and integrate internal business processes that would improve the way clients and employees worked together.
1Tech handled the solution delivery, implementation, deployment, and training. 1Tech are able to leverage experience of many previous Alfresco implementations. Alfresco couples the innovation of open source with the stability of a true enterprise-class platform. Alfresco offers true open source enterprise content management (ECM) - document management, collaboration, records management, knowledge management, web content management, and imaging. Hotwire were very pleased with the end result meeting all the required objectives. 1Tech's unequivocal industrial strength ECM and Alfresco design and implementation knowledge ensured that the final solution was delivered on time and within the client's budget.
For further information on our Enterprise Content Management solutions please visit: www.1tech.eu/solutions/suites/ecm